Pin It
For those of you unfamiliar, there is something called a link party in blogger land. What this means is that a blog will "host" a party, and other bloggers can link up a post to that blog. There then becomes a collection of blog posts in one place. An example of this is the
Patriotic Link-up Party
I co-hosted this summer.
cannot find source
There are several of these link parties dedicated to real food. Here you will find collections of recipes
(and cleaning products, toiletries, gardening and more)
that focus on food that is less processed, closer to nature, made with less chemicals, local, organic, sustainable, etc.
If you are on a quest to eat this way, these link parties are a great way to find lots of recipes all in one place. You will find some recipes as simple as
homemade pizza dough
or
salad dressing
to more complicated things like rendering your own lard.
Here are some of the ones I am familiar with:
Food Renegade
Fresh Foods Wednesday @
Gastronomical Sovereignty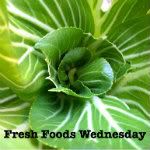 Simple Lives Thursday @
Gnowflgins.com
Fresh Bites Friday @
RealFoodWholeHealth
Simply Natural Saturdays @
The Pistachio Project
Keep it Real Thursday @
Beyond the Peel
Take some time to visit these blogs and link parties and you will get tons of new ideas for incorporating more real food in your everyday life.
Pin It